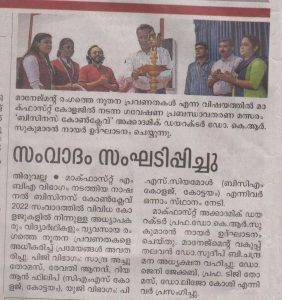 The Department of Management Studies organized a One-day national level intercollegiate paper  presentation  competition  on July 15th, 2022 for PG & UG students on the theme EMERGING TRENDS IN MANAGEMENT. The goal of Business Conclave 2022 is to share and discuss exciting work done by students, and to nurture and enhance their potentials in the field of study and improve research bent of mind.
The programme was inaugurated by Dr. K R Sukumaran Nair, Academic Director, MACFAST and the Keynote Address was delivered by Dr. Jeemon Joseph, Director, Department of Management Studies, MACFAST.
Received forty research articles from students and the presentations were arranged in four parallel sessions through hybrid mode. Faculty members from the department of management studies chaired various sessions. Sandra Achu Thomas, Revathi Anand, Riya Ann Philip from CMS college, Kottayam bagged the best paper award for the PG track and Siyamol P S, BCM College, Kottayam bagged the best paper award for the UG track.
The organizing committee members were Dr. Ligo Koshy (Chief Coordinator), Dr. Ashalakshmi R K, Dr. Neethu Ann Georgie and Mr. Arun Prem. The students' coordinators were Roshini Devasia and Akhil S Kumar.