MACFAST Award Presented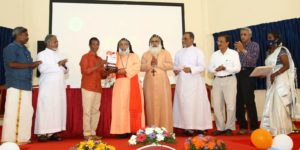 Radio MACFAST-90.4, Kerala's prime community radio station, completed its 12th year of broadcasting on the Kerala Formation Day on November 1, 2021. MACFAST celebrated the 12th anniversary of Radio MACFAST-90.4 at the college auditorium from 3.30 pm to 4.30 pm strictly adhered to the COVID-19 protocols prescribed by the Government of Kerala.
The term communication is significant in every sense of the concept itself and controlling every action with that conviction can lead to goodness, Cardinal Baselios Cleemis has said. He has inaugurated the 12th-anniversary celebration of Radio MACFAST-90.4.
The Cardinal presented the Niswartha Award instituted by the memory of its long-term Station Director Illathu V.George Mathew to veteran cine actor Indrans on the occasion. Dr. Jyothish Kumar Parameswaran Pillai, Research Director, MACFAST, who found a place on Stanford University's list of top 2% scientists, was also felicitated. Thomas Mar Koorilos, Metropolitan Archbishop of Tiruvalla, presented. Vicar general Father Isaac Parappillil delivered the George Mathew Memorial speech.