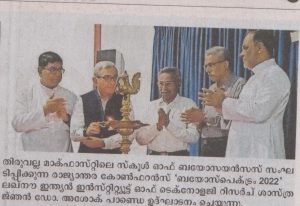 The current national scenario demands sustainable development which otherwise will render null the fruits of green revolution, said Dr. Ashok Pandey, Distinguished Scientist, CSIR-IITR-Lucknow. Dr. Pandey was speaking at the inauguration of the International Conference – Biospectrum 2022, organized by the School of Biosciences, MACFAST, Thiruvalla. The International Conference on Biotechnological Advances towards Sustainable Developments is the sixth edition of the Biospectrum series of international conferences. Dr. Pandey, who is also the Conference chair, called for a paradigm shift in the current agricultural practices among others and to infuse the goals of sustainable development. The inauguration ceremony was presided by Fr. Dr. Cherian J. Kottayil, Principal, MACFAST. Dr. K.R. Sukumaran Nair, Academic Director; Rev. Dr. Mathew Mazhavancheril, Research Director; Dr. Jenny Jacob convenor and Head, School of Biosciences; Mr. Stephen James and Dr Teena Merlin, co-convenors of the conference, also spoke at the event. 
The conference incorporated fifty lectures by internationally renowned scientists from India and abroad, many of them being ranked as the world's top 2 percent scientists by Stanford University.  National and International speakers included Dr. Jingwen Zhou, Professor at Jiangnan University, China; Assoc. Prof. Michael Sauer from University of Natural Resources and Life Sciences, Austria; Prof. Mohammad J. Taherzadeh, Chairman of Swedish Centre for Resource Recovery, Sweden; Associate Prof. Tong Yen Wah, National University of Singapore, Singapore; Prof. Gopalakrishnan Kumar, Institute of Chemistry, Bioscience and Environmental Engineering, University of Stavanger, Norway; Prof. Tjandra Setiadi, Department of Chemical Engineering, Institute Technology, Bandung, Indonesia; Prof. Show Pau-Loke, Department of Chemical and Environmental Engineering, University of Nottingham Malaysia, Dr. A Sabu, Associate Prof. Department of Biotechnology and Microbiology School of Life Sciences, Kannur University, Kennur, Dr. Siva Ramamoorthy, Prof. and Dean School of Biosciences and Technology, VIT University, India, and Prof. Jayachandran K., School of Biosciences, M.G University, Kottayam.
Posters and papers were presented by the participants during the conference. Ms. Merin Paul, Research Scholar, Rajiv Gandhi Center for Biotechnology -Trivandrum, and Ms. Silju Juby, Research Scholar, School of Biosciences, M G University, won the first and second prizes respectively of the Best Paper Award while Ms. Muskan Kumari and Ms. Kavya L. won the first and second prizes respectively of the Best Poster Award. The three-day conference, held in hybrid mode, was attended by over 300 participants and came to an end on June 29.