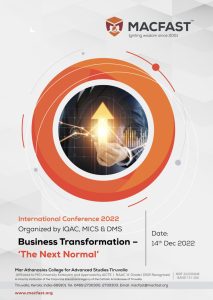 Department of Management Studies, MICS and  IQAC organizing an International Conference on "Business Transformation – The Next Normal".
The inauguration and keynote address will be delivered by Dr. Santhosh. P. Thampi, Director, School of Management & Business Studies, Mahatma Gandhi University. Dr. Aggi Anand, Accessibility Program Manager at D2L, Toronto, Ontario, Canada, will deliver the technical address on the conference theme.
The inaugural session will be conducted at 9:30 a.m., tomorrow (14-12-2022), in hybrid mode – in the College Auditorium and on Zoom platform, at the same time.